We are happy to announce the new WiFi Explorer Pro 3. We worked really hard behind the scenes to bring the app up-to-date with the latest enhancements in macOS Big Sur, but you will also notice a refreshed user interface and a set of exciting new features. We have also made sure WiFi Explorer Pro 3 will run smoothly on your new Apple silicon Mac.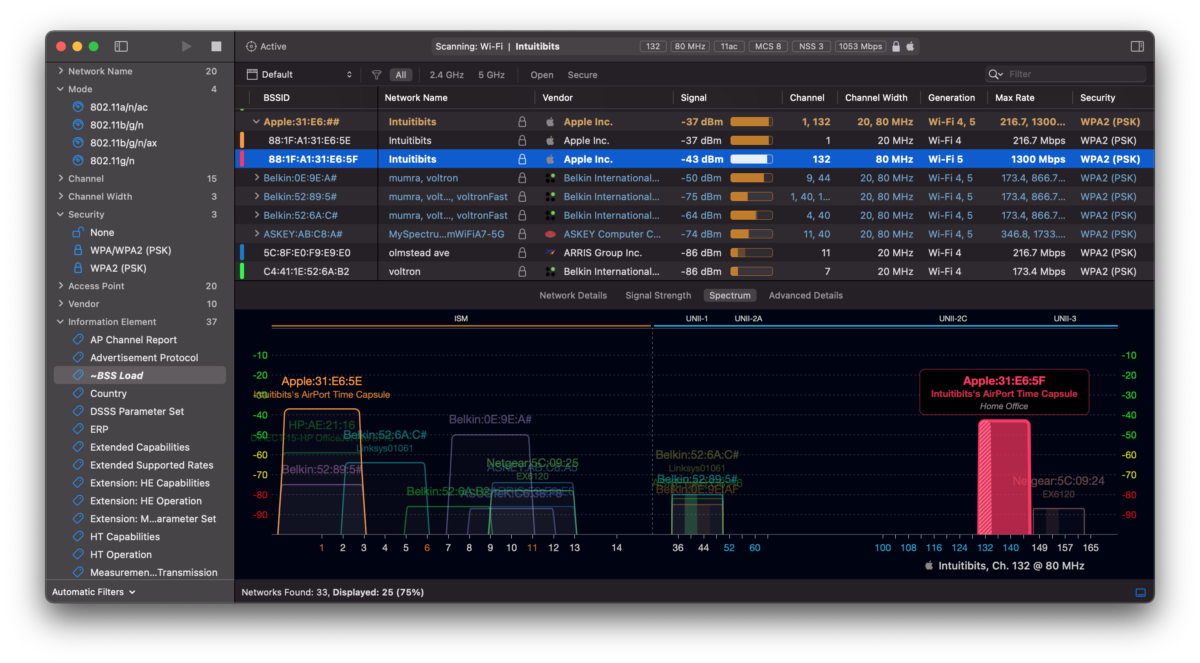 Create custom column profiles
Custom column profiles is one of the major additions you will find in WiFi Explorer Pro 3. You can use profiles to create and display different sets of columns suitable for specific troubleshooting tasks and scenarios.
For example, suppose you are often troubleshooting Hotspot 2.0 networks. In that case, you may want to create a profile that includes columns to display information specific to Hotspot 2.0 networks, such as HESSID, Vendor Type, and others. If you are then tasked to work with mesh networks, you can create a mesh network profile and switch between column sets accordingly. By using profiles, you can display only the information you need for the task at hand.
Built-in columns, such as BSSID, network name, signal strength, and others are part of every profile, but you can choose whether to display them or not. You can also create other columns from fields found in the information elements advertised in beacon and probe responses. You can create new columns from more than 550 available fields!
Pin columns
Column pinning allows you to fix a column to the left edge of the Networks Table so that the column remains visible when scrolling the table horizontally. With so many columns available for you to display in WiFi Explorer Pro 3, fixing the BSSID and network name columns, for example, is now essential.
Compare networks
With WiFi Explorer Pro 3 you can now compare the capabilities and configuration of any two networks. It does so by comparing their advertised information elements field by field, indicating which information elements are identical, which information elements differ, and which information elements are present in one network but not the other. This feature is useful for troubleshooting misconfigured APs for the same SSID, compare capabilities across SSIDs, and much more.
New inspectors
Inspectors offer complementary functions and information that can help you to design, validate, and troubleshoot Wi-Fi networks. In addition to the Issues, Utilization, and Zigbee inspectors, WiFi Explorer Pro 3 incorporates three new inspectors in its right sidebar: History, Clients, and Proximity Beacon.
History inspector: Shows the list of data points and the average, maximum, and minimum values for signal (RSSI), noise and SNR (Signal-to-Noise Ratio) for a particular Wi-Fi network.
Clients inspector: Shows information about clients associated to a particular Wi-Fi network.
Proximity Beacon inspector: Shows information about nearby proximity beacons.
Comprehensive help
WiFi Explorer Pro 3 now provides a new, comprehensive Help book. The Help book offers detailed guides to get you started on WiFi Explorer Pro 3. You can also dig deeper into all its advanced features to learn how to use WiFi Explorer Pro 3 more effectively.
Other features and improvements
Other new features and improvements you can find in WiFi Explorer Pro 3 are:
Ability to select networks by clicking on them in the Spectrum and Signal Strength graphs.
Ability to rename columns and change the text alignment (left, center, right).
In addition to organize networks by name, access point, and access point radio, you can now also organize networks by vendor.
Support for the Oscium WiPry 2500x spectrum analyzer.
Better annotations management and the ability to define "wildcard" annotations to match a set of BSSIDs.
Ability to import and display scan results in CSV format from Analiti. Other external programs already supported are Aruba Utilities and Apple's AirPort Utility for iOS.
Additional sidebar (automatic) filter categories, including Overlapping Networks, Device Name, and Information Element. You can also choose which categories you want to have available in the sidebar and negate sidebar filters by pressing the space bar. For example, you can choose to show all the networks that do not advertise the BSS Load information element by selecting BSS Load under the Information Element category and pressing the space bar.
The Utilization inspector includes a new column, Overlapping Networks, to show the number of networks overlapping on the selected channel.
The connection to remote sensors is now made securely over SSH.
Price and availability
WiFi Explorer Pro 3 is $129.99 and can be downloaded here. A 7-day free trial is available.