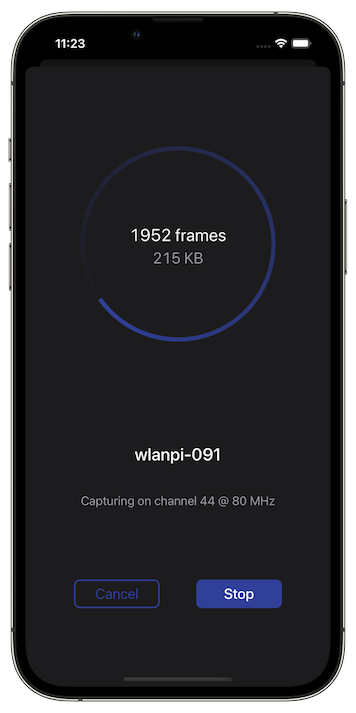 Airtool Pi
Remote Wi-Fi packet captures.
Airtool Pi lets you do remote Wi-Fi packet captures using Linux-based sensors, such as the WLAN Pi, or any Linux endpoint with one or more compatible Wi-Fi adapters.
Remote captures made easy
Airtool Pi securely connects to a Linux-based sensor over SSH and automatically starts a packet capture using the selected Wi-Fi interface. Then, it saves the packet capture locally on your iPhone or iPad, which you can share later for further analysis using Wireshark or your favorite protocol analyzer.
Minimal configuration and simple workflow
Add a sensor manually or automatically. Then, specify the wireless interface, frequency band, channel, and channel width, and Airtool Pi will take care of the rest. You can also limit packet captures by size or choose whether to discard data frame payloads to save space or protect the users' privacy.
Related Blog Posts
Even though Macs don't support Wi-Fi 6E, WiFi Explorer Pro 3 and Airtool 2 offer visibility into the 6 GHz band [...]
Airtool Pi allows you to perform remote Wi-Fi packet captures from your iPhone or iPad using Linux-based sensors. Airtool Pi [...]
If you don't have a remote sensor, you can still do packet captures on one or more channels using external USB Wi-Fi adapters. However, because we can't use external adapters natively as we do with the Mac's built-in Wi-Fi adapter, we need EASE (External Adapter Support Environment).